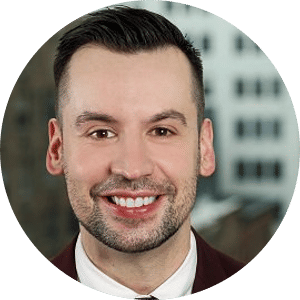 Carlos Jacinto
Licensed Real Estate Salesperson
99 Park Avenue 10th Floor
New York, NY 10016
WORK WITH Carlos
About Carlos
Born and raised in Portugal, Carlos has lived in New York City since 2006. He is a west side enthusiast, an area he loves from its fun and buzzing Hell's Kitchen to its beautiful architecture of the Upper West Side.

Carlos is a classically trained singer and actor who has 15 years experience in the hospitality industry. His roles have ranged from customer service to management, providing him with the interpersonal and problem-solving skills necessary to make him a powerhouse at the negotiating table. Whether his clients are looking to rent, buy, or sell, Carlos goes above and beyond to make sure he not only finds the perfect place for them to call home but ensures a seamless experience as well.

When not with clients, he enjoys reading, swimming, crossfit, attending Broadway shows, and trying new restaurants.
CARLOS'S HAPPY CLIENTS
""I would highly recommend Carlos. He took the time to chat with me and really listened to all my needs and wants. Based on that, he prepared an excellent list of apartments which far exceeded my expectations. Apartment hunting in NYC is an exhausting, and sometimes harrowing, experience. Carlos made the experience very enjoyable. He had thorough knowledge of the entire area and was able to draw a very good vision of what living there would be like. Throughout the tour of properties, I felt relaxed and not the least bit rushed. If you are looking to rent in NYC, don't even bother looking at listings, just call Carlos and he'll do it all for you.""

"Carlos is so easy and fun to work with - he really listened to what I wanted and he was fantastic in scheduling a bunch of viewings for me in the area I wanted to live in. He was very responsive and made sure that I had all of the information I needed both during the apartment search and during the application process. I highly recommend Carlos and the team at Keller Williams in your search for your NYC apartment!"

"Carlos patiently walked me through every step in the rental process during a difficult and very chaotic time in the market. He was incredibly knowledgable about the listings he showed me as well as extremely kind - I had to make a gut check change late in the process and he didn't bat an eye. He was an absolute joy to work with, and I'm incredibly in love with my new apartment."