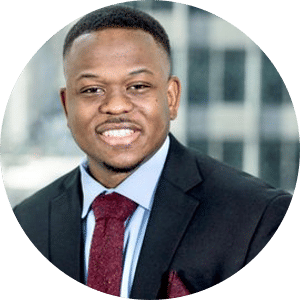 Reginald Louissaint
Licensed Real Estate Salesperson
99 Park Avenue 10th Floor
New York, NY 10016
WORK WITH Reginald
About Reginald
Reginald Louissaint has over 8 years of experience in the Real Estate Industry. He holds a Master's Degree in European Real Estate and has helped buyers find their dream homes in France, Spain, Malaysia, and Portugal.

Reginald is dedicated to providing excellent customer service by focusing on proactive communication and understanding the clients' needs.

Reginald's passion for real estate, combined with his warm personality, has allowed him to build long-lasting relationships with clients on an international level. During his free time, he enjoys spending time with his family, adventurous road trips, and running.
REGINALD'S LISTINGS
ADDRESS
LOCATION
BEDS
BATHS
TYPE
PRICE
STATUS
rue Frédéric PassyNeuilly sur Seine
France
4

BR •

3

BA •

House
$13,000,000

For Sale

Avenue Raymond Poincare
France
3

BR •

3

BA •

House
$6,448,000

For Sale

464 5th Street
Park Slope
6

BR •

4

BA •

Townhouse
$3,900,000

For Sale

Rue de Buffon
France
22

BR •

0

BA •

House
$3,016,000

For Sale

51 Avenue Hoch
France
3

BR •

3

BA •

House
$2,392,000

For Sale

65 Boulevard de la Croisette
Lausanne
1

BR •

1

BA •

House
$2,060,000

For Sale

131 20th Street
Greenwood
6

BR •

3

BA •

Townhouse
$1,760,000

For Sale

East End Avenue
Yorkville
2

BR •

2

BA •

Coop
$1,695,000

For Sale

bis avenue Roger Salengro
France
5

BR •

3

BA •

House
$1,345,000

For Sale
REGINALD'S HAPPY CLIENTS
"Reggie is a terrific agent and we were lucky to find him as our agent in this extremely difficult market. He brings his experience from all over the world and he was able to find clients one after another; we received multiple offers accordingly despite the stiff market our listing was able to receive constant exposure. Was a real pleasure to do business with him & Keller-Williams this year."

"I had a sale contract with Reginald on 2018. I was the owner of my property, it was located in Paris, France. My house was listed with another real estate company for 8 months. On 2018 the property was still listed for awhile not even one offer, the property had a couple of viewing without serious inquiries, it was a complicated case. Finally, I decided to figure out with another real estate agent until I found Reginald. Honestly I may say it was wonderful to have met him, he managed to sold my house in less 4 weeks. I'm willing to work again with Reginald for next my next investment. Without a doubt I would refer Reginald to anyone who wants to sale or purchase a property. Again, I'm grateful for what he did."

"I''m writing to recommend Reginald Louissaint for his real state agent talent. I''ve had the opportunity to work with Reginald in 2017 when we wanted to sell our apartment in Bussy Saint Georges France. For my husband and myself this transaction was a great chalenge for many reasons: We are based in Kuala Lumpur my husband is not a French speaker Our property taxes in France were not up to date When I contacted the Real estate company online I wasn't sure how we would get the right support. I have been consistently impressed with Reginald diligence, efficiency, and ability to get things done fast. He is extremely dynamic, positive attitude, and has grace under pressure. To add to his many talent, he is bilingual English and French. Reginald performed beyond his real estate expertise, helping us with all administrative tasks regarding the transaction, contacting the taxe office to gather all informations for us and updating our fiscal situation. In addition he arranged for the right notary who could work online since we are at a remote place. All the legal documents were electronically signed. Reginald planned and organised everything. We finally travelled to France just to handover the keys and collect the original final legal transaction documents. I am planning to buy another property in France and looking forward hiring Reginald once again. You will certainly enjoy working with him for your future projects. Par la présente, j'ai l'honneur de vous recommander Monsieur Reginald Louissaint en tant qu agent immobilier pour vos transaction future. J ai eu l opportunité de travailler avec Monsieur Louissaint en 2017 a l occasion de la vente de mon appartement de Bussy saint Georges en region Parisienne-France. Cette vente représentait endorment de difficultés a plusieurs niveaux: Nous résidons a Kuala Lumpur-Malaisie, Mon époux ne parle pas le français, Nous n étions pas en règle sur les taxes foncières du au manquement d une autre agence gestionnaire de notre bien. En contactant par internet l agence immobilière ou travaillait Monsieur Louissaint au moment de cette vente, pour la vente a distance de notre bien, je ne savais pas a quoi m attendre vue les difficultés mentionnées ci-dessus. J ai été constamment impressionné par la diligence, l efficacité et la capacité qu a Monsieur Louissaint a faire face aux défis. Il est extrêmement dynamique, a une attitude positive et fait face a l adversité avec beaucoup de courage. En plus de toutes ces qualités, il est bilingue Anglais/Français. Monsieur Louissaint a travaille au dela de ses fonctions d agent immobilier. Il nous a constament assiste dans les taches administratives requis pour la vente, passant tous nos appels locaux qui nous auraient demande des appels internationaux, contacter des experts en droits pour la regulation fiscales avec succès. Il s est occupe de trouver le notaire capable technologiquement de travailler a distance avec les supports adéquats aux signatures électroniques. Toute la transaction a été effectuée avec succès en ligne. Nous nous sommes finalement déplacés en France uniquement pour le transfert des clefs et remises des documents originaux. J ai un nouveau projet immobilier en cours avec hate de travailler a nouveau avec Monsieur Louissaint. A votre tour, vous ne regretterez pas recourir a ses services pour vos projets immobiliers."

"Bonjour Reginald, Je t'écris mon avis dans le cadre de ton travail. Afin d'aboutir dans tes démarches je te confirme que tu nous as vendu la maison que nous occupons depuis plus de 4 ans. J'en profites pour préciser que tu as été très professionnel tout en apportant de la gaité à chaque étape. Tu sais être à l'écoute de tes clients et portes un intérêt notable à satisfaire leurs besoins. En espérant que ces quelques mots t'aident pour la suite. Ma famille et moi-même te souhaitons une excellente continuation sur le sol New-yorkais. Jean-Patrick. (ENGLISH) Hello Reginald, I am writing to you my experienced of working with you in the context of your work. In order to succeed in your steps, I confirm that you sold us the house that we have occupied for more than 4 years. I take this opportunity to point out that you were very professional while bringing cheerfulness to each step. You know how to listen to your customers and take a significant interest in meeting their needs. Hope these few words help you in the future. My family and I wish to you an a lot of success in New York. Jean-Patrick"